Nine years ago when we were preparing for our wedding, I didn't have any idea what a magically beautiful day it would be. For me, my wedding day was never about the show or the stuff, it was about sharing the love my now husband and I had been growing over the five years prior with all of our closest friends and family. That's exactly what it ended up being, a day of beautiful celebration. But the beauty extended from the joy and merriment with the way everything came together to make the day visually stunning as well.
We were married in the foothills outside of Denver, Colorado in September. Just as the leaves were changing and fall was setting in, we joined hands in front of the Rocky Mountains and took each other as man and wife. And our color scheme of deep browns, sage greens, yellows and bright orange was a perfect fit. But our color choices had nothing to do with the corresponding scenery.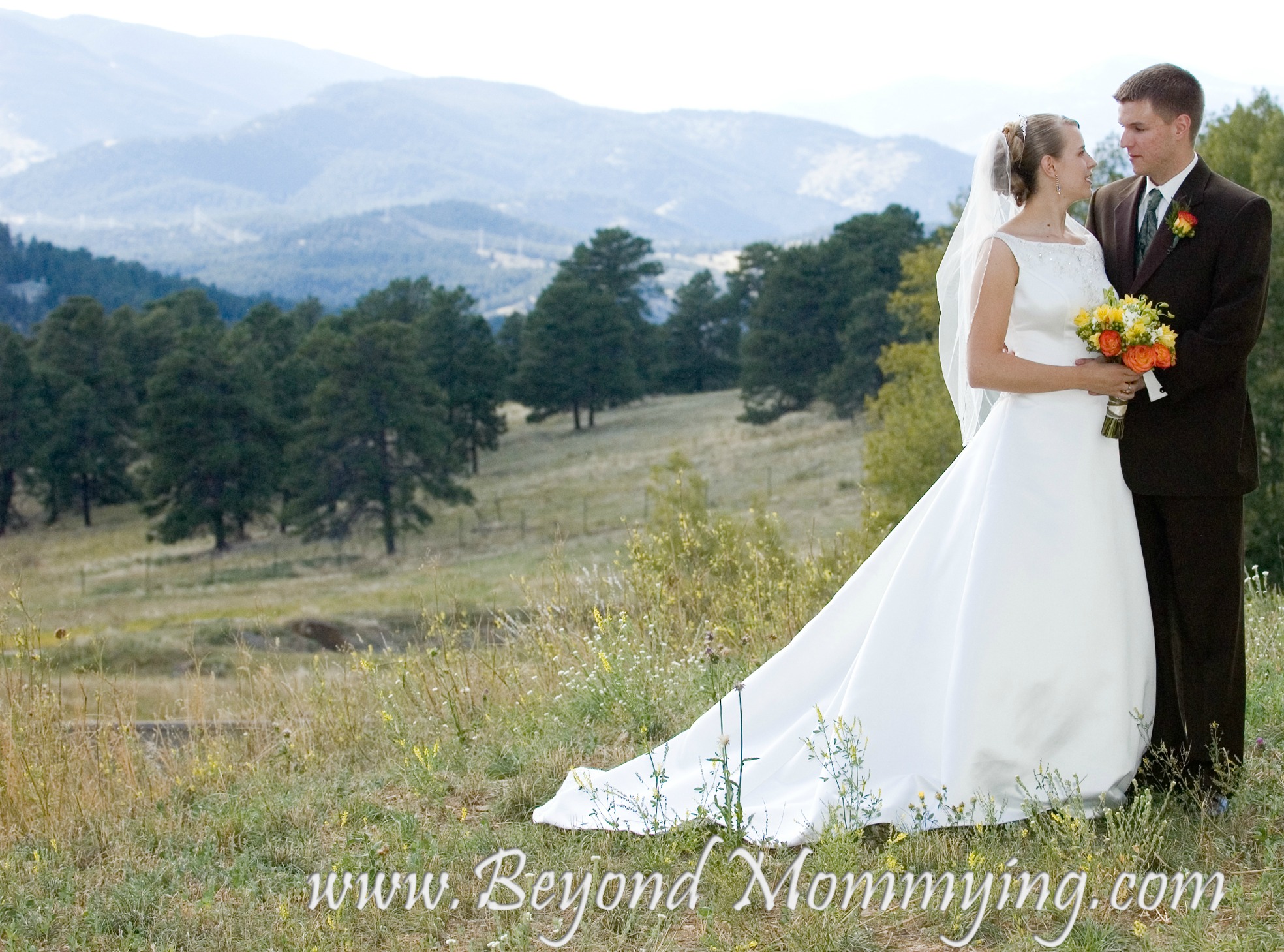 I'd left my life-long Colorado home for college five years earlier, where I met my husband, but my heart has remained tied to the place that raised me. I was set on having columbines, the Colorado state flower, in my bouquets. But when we talked to the florist, I was devastated to learn columbines were not possible.
I had already picked out our bridesmaids dresses in a sage green with brown sash to provide a neutral backdrop of the columbines. I'd planned everything around the rich purpley-blue of the flowers I so adored and reminded me of home and didn't know which way to go from there.
So, as any good fiance would do, I tortured my soon-to-be husband with a trip to the craft store to get ideas before meeting with the florist. I wasn't the type of bride that had my wedding day all planned out before I even had the prospect of a husband. Quite the opposite in fact, I hadn't thought much about it at all. But I did know that I wanted my soon-to-be husband's input and participation. It was his day, too, after all!
At the time, we were living in Oklahoma but preparing for a move to Florida where my husband had accepted his dream job. He had just completed his master's degree at Oklahoma State University and I was working at the school's child development center and after attending a very small university for our undergraduate studies, we had become avid OSU fans and were feeling a bit nostalgic about leaving the place we loved and where we felt so at home.
As we perused the floral section of the craft store, I started to feel overwhelmed and lost. So many choices but none of them felt right. My husband jokingly picked up some OSU orange flowers and said "let's just have an OSU wedding." He fully expected me to make some snappy remark about how ridiculous the idea was but instead I took the bunch of flowers from him, looked them over and said "we totally could. These would actually look really nice with the bridesmaid dresses."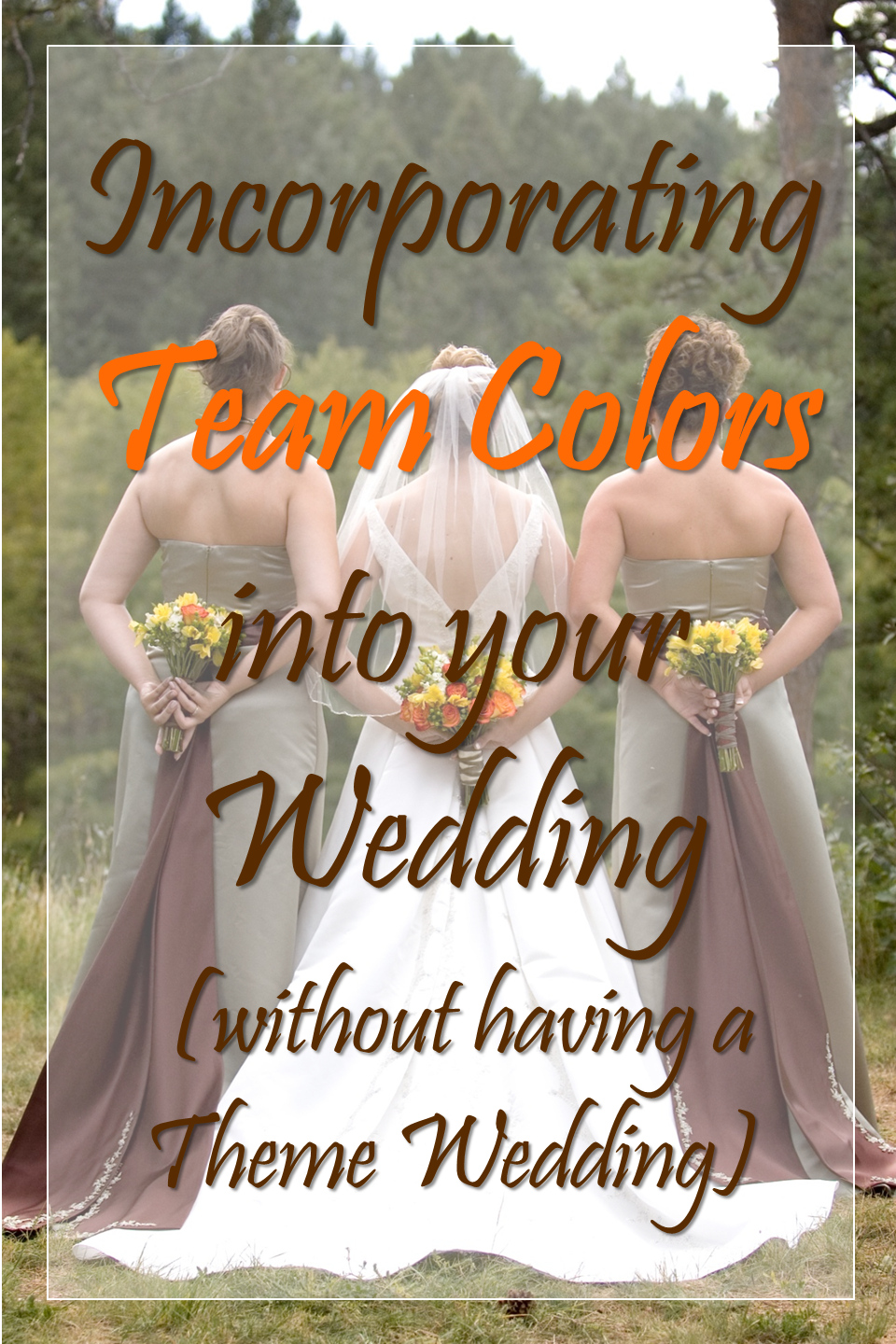 And so, we bought those fake flowers, took them to our florist and our color scheme developed from there, a nod to our Oklahoma State fandom without becoming a theme wedding. We tied in the vibrant orange every place we could with the accents of sage, brown and a bright yellow the florist suggested.
Our flowers consisted on orange-tipped roses and bright yellow lilies.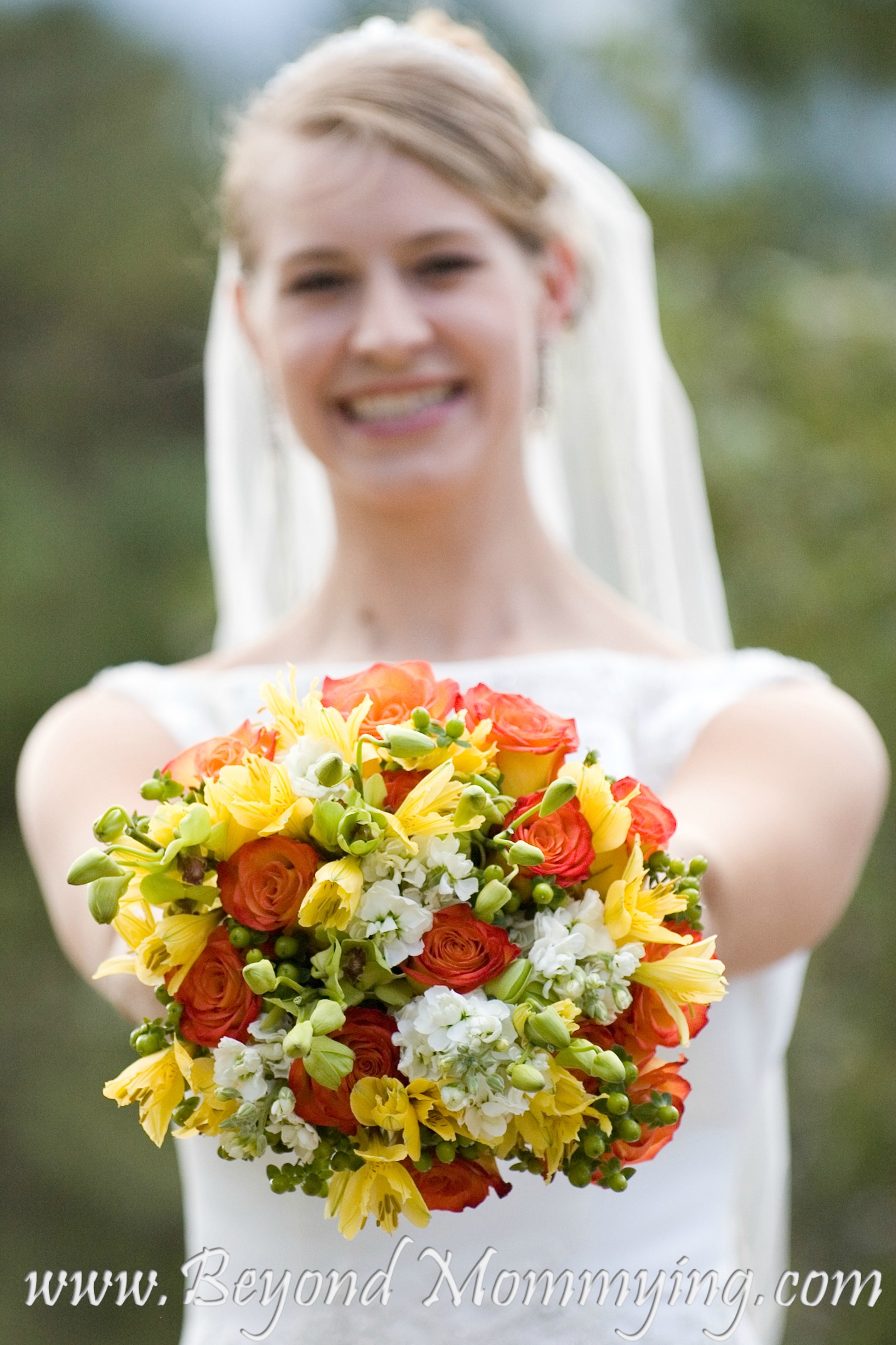 Our cake was adorned with orange tiger lilies and roses with perfectly matched sage leaves over a deep brown base.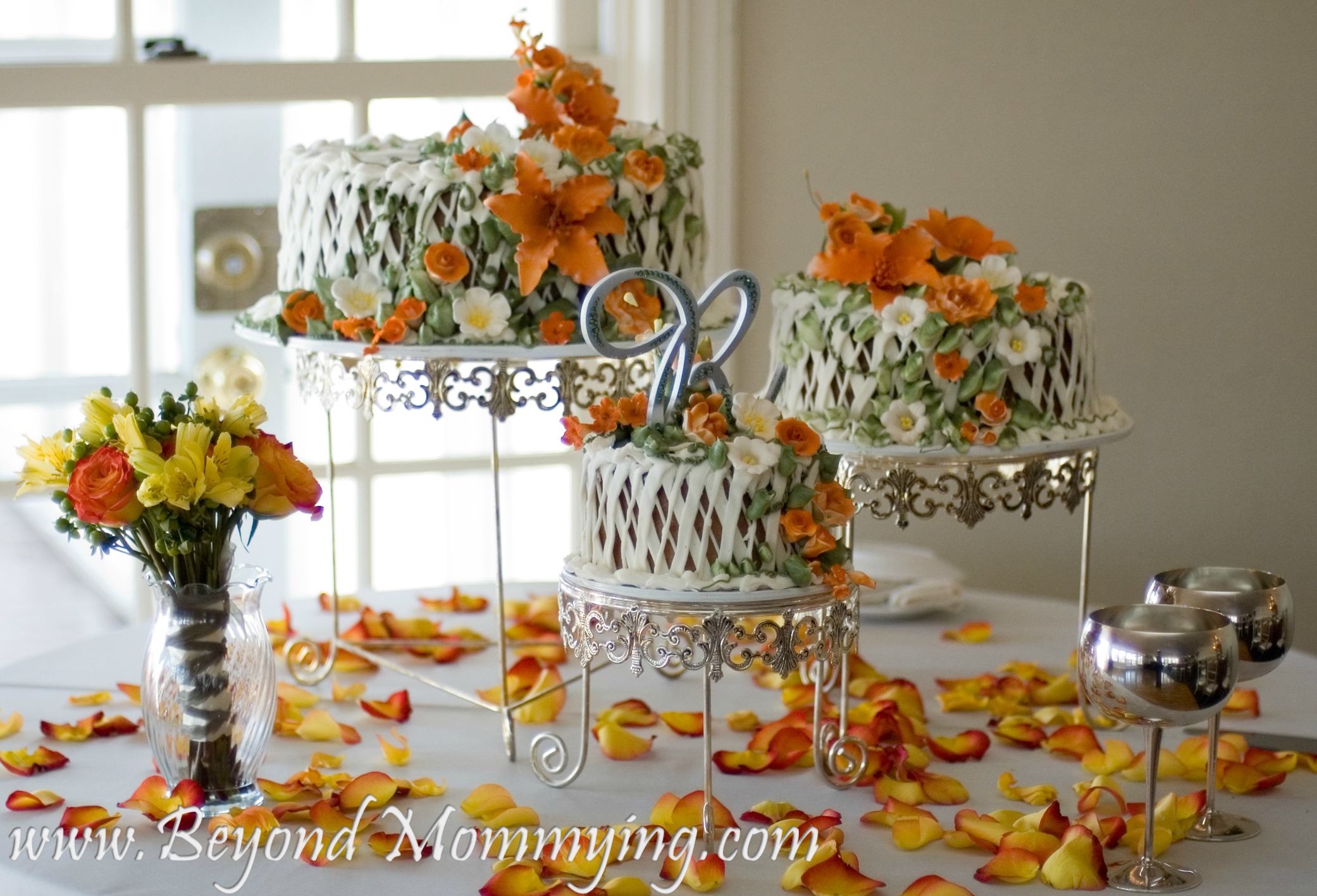 We also brought in the orange with copper accents and accessories on the tables.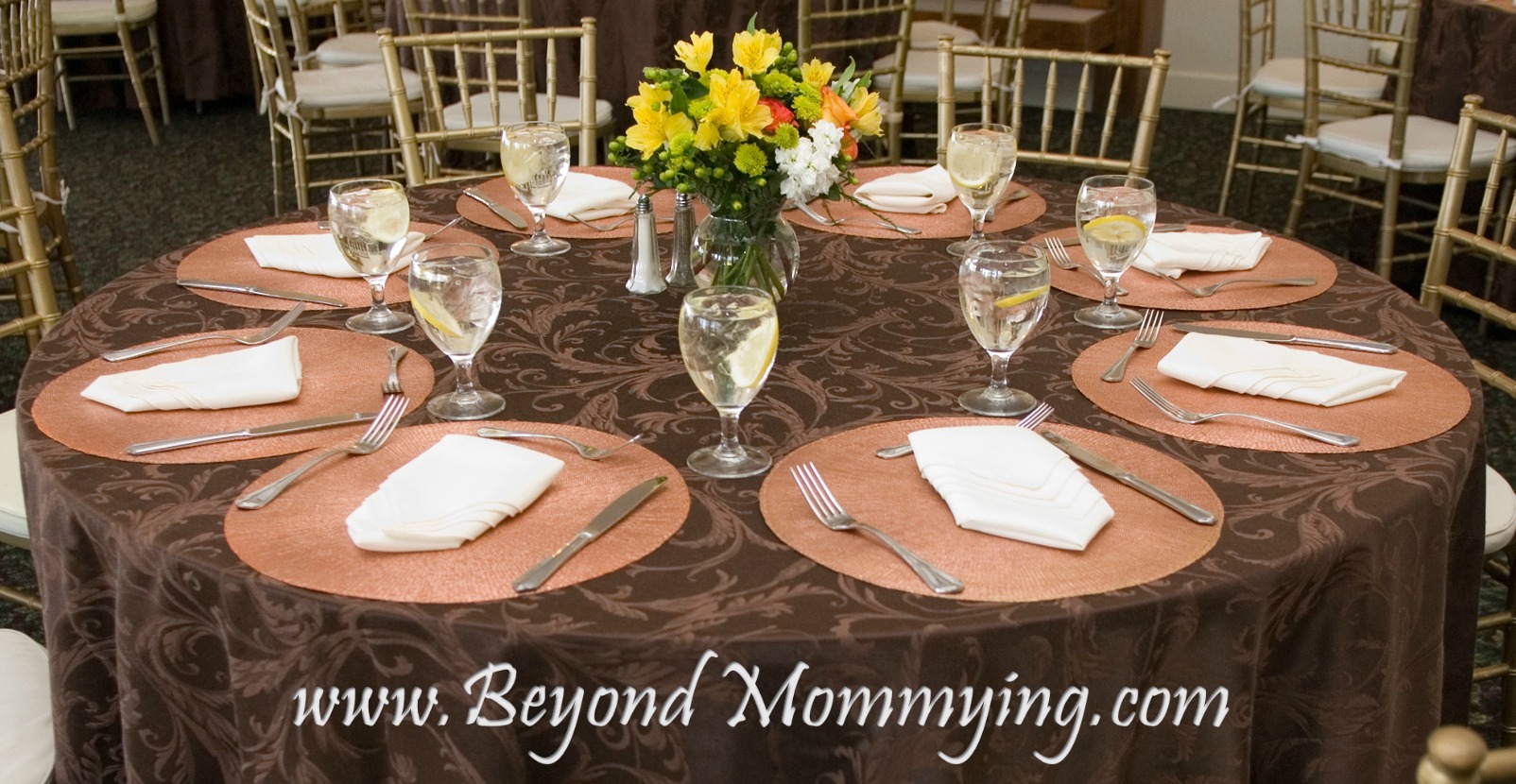 Though completely accidental, we were able to tie a very unusual color into our wedding and create a beautiful color scheme with a nod to our favorite team without it becoming a "theme" wedding. We simply used the one vibrant color of our Oklahoma State Cowboys as a jumping off point and built everything around that while still keeping it elegant and fitting of our personalities.
I'm Melissa and I share my parenting adventures on Beyond Mommying. I'm a homeschooling, ballerina mommy of four and live by the motto "Life is never boring when you're never alone, but I know somewhere out there, there is life Beyond Mommying." You can also find me on Facebook, Twitter, Pinterest and Instagram.