I've been blogging a long time. No, really, much more than most twenty-something bloggers. I've been blogging for roughly 8 years now, 10 depending on how you count it. My blogs, though, have taken many different shapes and forms. At times, they were very niched and, at others, they were all over the place. Sometimes they were anonymous. And sometimes they weren't. Now, I actively blog primarily at Burke Does, a life and style blog that specializes in personal finances. My sister and I write about overcoming debt, while balancing trying to eat healthy, stay fit, and have a little fun along the way. I also share my weekly to-do lists. Along the way, I've learned a couple of different tricks about blogging, and I'm excited to share them with you.
Self-Discipline
Blogging is a LOT of work. You get an idea for a post, then you write it. You have to make an image for Pinterest (not that easy, by the way). You have to figure out where it works in your editorial calendar and schedule it appropriately. Then you have to schedule social media for it- 8-10 tweets, 2-3 facebook posts, you have to pin it to a board and maybe schedule some repins to group boards.
That's just for one post. Multiply that by 3-5 posts per week. Besides for reading blogs you might like and sharing the content of those other bloggers. You can easily get buried as a blogger and it can get to be overwhelming.
Nonetheless, when I made a decision to blog at a certain frequency or on a certain topic, I recognized that I made a commitment, so it was really important to fulfill my commitment. There was no deadline or grade that would be affected if I didn't write and publish a post, so blogging for me has entirely been an exercise in self-discipline.
Time Management
Similarly, because blogging is so involved, I needed to be able to manage my own time. I work (more than) full time. During wedding season, I cater on the weekends. During rugby season, I'm refereeing anywhere between two and five games per week. There a lot of bloggers who spend hours and hours each week on their blog. But me? I don't have hours and hours to spend on anything. Time management, thus, is super important. Because I write about productivity often, I've tried a couple of different tips out. I've mastered email and share about how you can maintaining inbox zero yourself here. For calendar and task management, I have been loving Plan.
Organization
Because there are so many different moving parts with blogging, without being well-organized things will fall through the gaps. I've tried a couple of different systems over the years, but I think I'm finally in a groove that works. Though I am always iterating, I have at least not dropped the ball in a long time, which is always really nice and speaks for the system I currently have in place.
Confidence
As a blogger you put yourself out there a lot. When you reach out to a brand, you're putting yourself in a position to be shot down. When you write a heart-to-heart post, you risk rejection or dismissal. When you put your finances in the open, you risk judgment. You need to be confident in your writing and your person when you blog. Otherwise, you can end up selling your soul for a couple of bucks.
Let's talk: What have you learned as a blogger that I might have missed?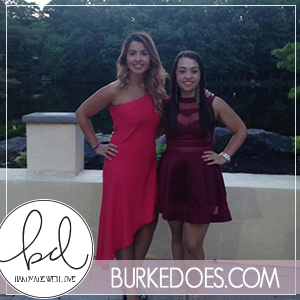 Author Information
Emilie is a recent Princeton University grad, currently living in Baltimore, MD. She is half of the brains behind BurkeDoes.com, a life and style blog that specializes in personal finances. Together, Emilie and Laura write about overcoming debt, while balancing trying to eat healthy, stay fit, and have a little fun along the way. She also makes to do lists at MyToDoList.Me. You can follow her around the web: Twitter, Instagram, Foodstagram, Facebook, Pinterest, Bloglovin'.