This tutorial on how I knock out adult acne is part of an #AcneFreeSummer campaign hosted by the social shopper media company #CollectiveBias and its advertiser. #AcneFreeSummer #AcneFreeLife This is my story and all opinions are my own.
It's no secret that I spend my summer days outdoors. From boating, going on walks, hiking, at the dog park with my dogs, or attending outdoor festivals, I'm always sweating. With sweat comes break outs and I don't know about you, but I can't stand when blemishes occur. Today I'm sharing with you how to knock out adult acne with AcneFree just in time for the end of summer.
The older I get, the more important it is to have a skin care regimen, especially with my skin changing. Having a regimen is important with keeping skin looking healthier, younger, and blemish free. With my change in lifestyle, I believe that it is a direct result to why my skin is changing.
AcneFree has a large variety of products but I only use a select few in my skincare regimen. In addition to AcneFree's large variety of products, they are the only brand that makes acne clearing systems formulated with Advanced Micro-Benzoyl Peroxide. This peroxide is designed to work faster and penetrate deeper into pores. What's great about this line is that it's not only affordable, a great way to care for acne-prone skin, but it can be found in local stores such as Walmart, Walgreens and Amazon.
AcneFree 24 Hour Acne Clearing System // This system is an easy to use daily regimen that can be done in three simple steps. The clearly system includes Oil-Free Purifying Cleanser, Renewing Toner and Repair Lotion. Simply do these steps twice a day for clear skin. This clearing system is not only great for your face but it's great for body acne, too, which is perfect for those just starting out with a skincare regimen.
AcneFree® Therapeutic Sulfur Mask // This mask is a deep penetrating pore therapy to help soothe acne-inflamed skin and absorb excess oil. The formula includes Sulfur, a natural and effective acne treatment ingredient, Vitamin C, Copper, Zinc and Meadowsweet help to minimize the appearance of pores, and refine skin tone and texture.
Daily Skin Therapy Complexion Perfecting Cream // The nighttime only cream contains retinol to gently renew the skin surface. Throughout the night the cream continues to release retinal and contains skin conditioners and humectants.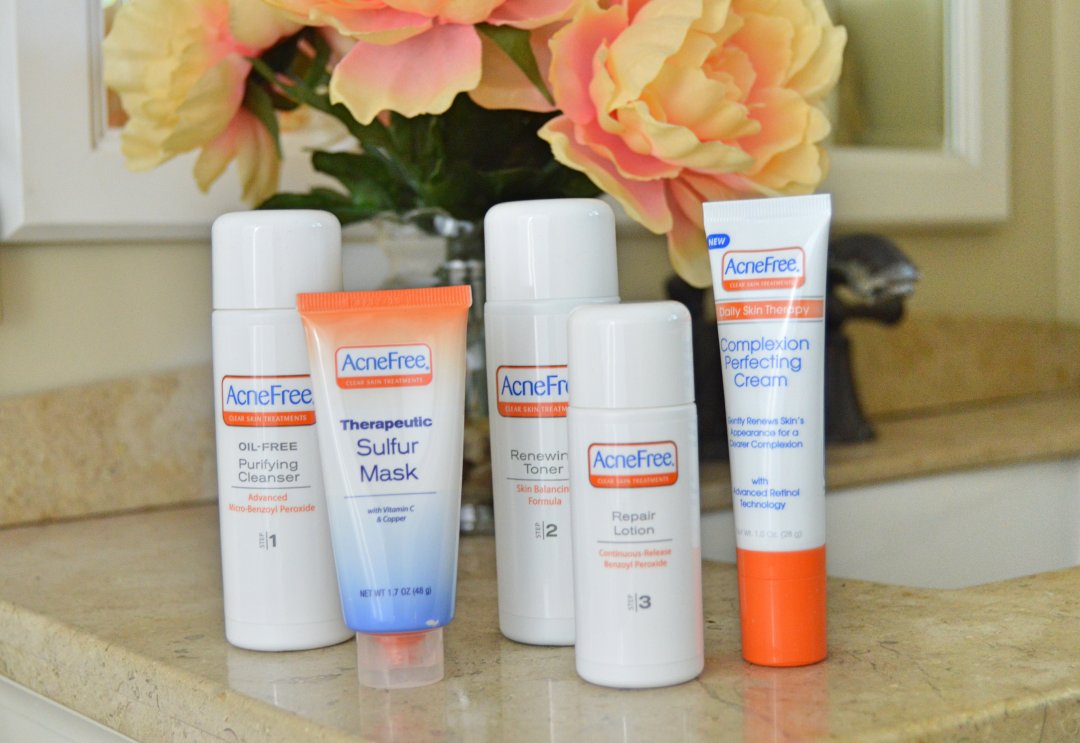 Hover over the products in the photo to purchase them online!
Knock Out Adult Acne with This 6 Step Regimen:
1. Start out with a shower // Before beginning your skincare regimen, start out with a shower. A shower helps wash out all of the oil your body and hair as absorbed throughout the day. I always try to work out in the morning, so when I get home, I take my shower and then start my regimen. On nights where I work out in the evening, showering first before my regimen is always a must.
2. Cleanse your body // The next step is my skincare regimen is using the AcneFree 24 Hour Acne Clearing System Oil-Free Purifying Cleanser. The cleanser contains Micro-Benzoyl Peroxide and gently deep-cleans while exfoliating with microbeads. The microbeads work to remove pore-clogging dirt, excess oil and eliminate acne bacteria. What's great about this cleanser is that the benzoyl peroxide fights breakout, even after rinsing.
3. Tone your skin // Once my skin is cleansed and feeling clean, I use the second step in the clearing system which is the Renewing Toner. The toner is a revitalizing, pore-refining toner with vitamins, Witch Hazel, Chamomile, and Aloe to help control oil and balance uneven skin tone.
4. Repair // Now that my skin is feeling fresh, I use the 3rd product in the clearing system, Repair Lotion with Micro-Benzoyl Peroxide. This lotion offers 24 hour continuous clearing when used twice a day.
5. Mask Up // 2-3 times a week I use the AcneFree Therapeutic Sulfur Mask for added skin care. This mask is great and leaves my skin feeling refreshed. I also notice that it gives my skin a healthy glow.
6. Extra Care // When I am feeling that my skin needs extra care, I turn to the complexion purifying cream. This is a nighttime only cream that helps give my skin a little extra TLC.
Stop Adult Acne, Join the AcneFree Challenge!
Come take the #AcneFreeChallenge to see visible results in as few as 3 days! For more information and full rules, log on to http://cbi.as/9rasp
The details: 
AcneFree is launching a 4-week sweepstakes on August 14th, 2017. 3 Grand Prize Winners will win $1,000 spending money and AcneFree Supplies for a year. Additionally, AcneFree will give away 10 AcneFree® 24 Hour Acne Clearing Systems every week for 4 weeks.
No Purchase Necessary. To enter, simply enter your name and email address at AcneFree Sweepstakes. Use the form to follow on Instagram and Facebook to earn extra entries.
How do you fight adult acne?
Will you come take the challenge?